Architectural Designer's Island Retreat on St. Barts
Villa Case et Cuisine (Villa CEC), a charming St. Barts villa set dramatically amid lush tropical vegetation, sensitively fuses contemporary design and traditional Caribbean style. Outdoor dining beside generous pool, mid-level deck with lounge chairs above soothing waterfall, hilltop gazebo facing the sea. Two minute walk to Marigot Bay beach/nature reserve, a cove perfect for swimming and snorkeling. Villa CEC offers every amenity at affordable rates and is the ideal St. Barts destination for couples and families.
Living and Dining
Designed for relaxation, the light and airy living room opens to the garden and swimming pool. A separate dining area overlooks the bay and features an elegant rosewood pedestal table and classic chairs. A gourmet kitchen with breakfast bar has European stainless steel appliances and is fully equipped for cooking by guests or a private chef. Living spaces are air conditioned with ceiling fans. Welcome bottle of wine on arrival. Provisions ordered on request.
Bedrooms & Loft
The two bedrooms are casually sophisticated with elegant queen size four-poster beds. The master bedroom and ensuite bath connect to the private terrace and pool. A sunny loft with ocean and garden views features a desk/workspace with computer/wifi/printer/fax and offers an additional sleeping option with twin beds. Air conditioning and ceiling fans throughout.
Owners Wendy & Dennis Carlton
Dennis and Wendy first visited St. Barts in 1978 when it was still an undiscovered hideaway. For forty years they have developed close ties with the island and nurtured a love of its way of life. As former owners of the Normandie Hotel on St. Barts, they transformed a local auberge into a stylish contemporary inn. They have devoted the same care to Villa CEC. Guests receive a copy of co-author Dennis' book Case* et Cuisine: Traditional Living and Fine Dining in St. Barts which pays tribute to the vernacular architecture and island restaurants. *Case (rhymes with Oz): the traditional French Caribbean house.
(Note: See Dennis and Wendy's design of the Normandie Hotel, the former website is still on view.)
*Case (rhymes with Oz): the traditional French Caribbean house.
Photos
Villa Case et Cuisine Amenities
Swimming Pool
Workspace: computer, wifi, printer, fax
Flat screen tv/Dish satellite network
Stereo/cd player/Sonos/Bose systems
Telephone R/F, diswasher, oven, microwave, toaster, coffee maker, espresso maker
Air Conditioning & Ceiling Fans
Sleeping loft with twin beds
Bathrobes
Hair dryers
Safes
Charcoal BBQ
Door/window screens Lounge chairs & beach towels
Infants/children welcome; no pets
Guests met on arrival at airport/ferry
Welcome bottle wine
Complimentary copy of Dennis Carlton's book Case et Cuisine
Daily maid service except Sun/holidays Delivery of provisions on request
Dates & Rates
Season
High
Low
Holiday
High
Dates
Feb 8, 2023 –
Apr 14, 2023
Apr 15, 2023 –
Dec 14, 2023
Dec 15, 2023 –
Jan 5, 2024
Jan 6, 2024 –
Apr 14, 2024
1 Bedroom
per week
$3,200
$2,400
On request
$3,200
2 Bedrooms
per week
$3,950
$2,700
$7,150*
$3,950
2 persons/per bedroom max. Sleeping loft: twin beds $75 per person/per night.
Holiday Season: twin beds are included in the price of a two bedroom rental.
Rates include daily maid service except Sundays and holidays.
There are no service charges but the 5% island tax is additional.
Guests will be met at the airport and accompanied to Villa CEC.
Check-in: 3 pm. Check-out: 11 am.
Availability
Contact
Map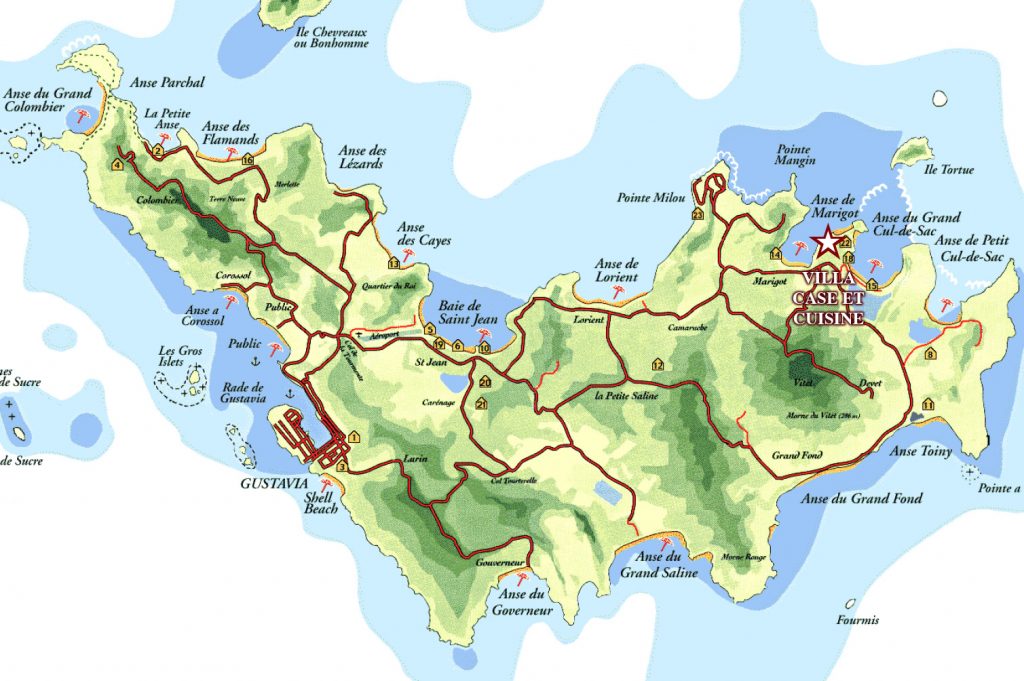 Environs
In addition to the tranquil Marigot Bay Beach & Marine Reserve, it is but a short walk to Grand Cul de Sac, one of the island's most beautiful settings, noted for wind surfing, kite boarding and parasailing on its clear turquoise waters. Two nearby luxury hotels (Le Sereno, Le Bathelémy) feature state of the art health spas and exceptional restaurants. Conveniently accessible to the shore road, Villa Case et Cuisine is also a quick ride to St. Jean with its idyllic stretch of sand, beachfront dining, cafes (Zion is a favorite) and boutiques.